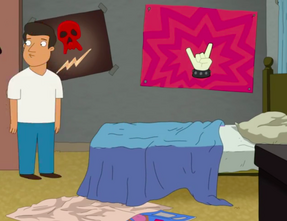 Duke Americanman is a fake name for an unnamed illegal immigrant and only appears in High School Football.
Overview
Edit
He appears to be curious when Bud Buckwald takes him to the United States to help him to become a football player (he thought it was futbol) and named him Duke Americanman as an American name. Bud prefers an immigrant his real son more than Sanford. He doesn't understand English much to Bud's dismay, so he brings Ernesto to be his translator. With him becoming successful, an immigrant made Bud happy by not getting killed, unfortunately he was taken away by Steve but only to be in his side for football.
Ad blocker interference detected!
Wikia is a free-to-use site that makes money from advertising. We have a modified experience for viewers using ad blockers

Wikia is not accessible if you've made further modifications. Remove the custom ad blocker rule(s) and the page will load as expected.